Ankh
Hersteller: Deck13
Vertrieb: bhv
Assil, der Ägypter
Mehrere tausend Jahre vor Christus: Assil und seine Freunde feiern verbotenerweise eine ausgelassene Party in der Grabkammer einer Pyramide. Alle amüsieren sich gut, bis durch ein Missgeschick ein paar Vasen zu Bruch gehen und dadurch die Mumie des Skarabäenkönigs erwacht. Diese erwischt ausgerechnet Assil und belegt ihn sogleich mit einem Todesfluch, sichtbar durch eine Tätowierung auf dem Handrücken. Doch auch der Mumie passiert ein Missgeschick: sie verliert das Ankh und Assil erhält es.
Nun ist es die Aufgabe des Spielers Assil vom Todesfluch zu befreien, nebenbei allen möglichen Leuten Gefallen zu erweisen und herauszufinden, wozu der überdimensionierte Flaschenöffner (das Ankh) eigentlich gut ist. Zuerst muss er aber dem Hausarrest seines Vaters entfliehen – und hier beginnt die Aufgabe für den Spieler.

Atmosphäre
Obwohl das Spiel mehrere tausend Jahre vor Christi Geburt spielt sind die Charaktere des Spiels, allen voran unser Held Assil, recht aufgeschlossen: es wird freimütig über die Regierungsform des Pharaos diskutiert, die neuesten Fußballergebnisse besprochen und auch mit dem Pharao duzt man sich. Wir haben es also mit modernen Charakteren zu tun, die sich nur deshalb halbnackt auf dem Bildschirm präsentieren, weil das Spiel eben im alten Ägypten stattfindet. Wäre es ein weiteres "Simon the Socerer", so würden so gut wie alle Personen auch da nahezu unverändert hineinpassen.
Die Spielwelt in Ankh ist auch recht vielseitig: es gibt einen Markt in Kairo, die Sphinx, eine Oase und viele andere Orte des alten Ägyptens. Die Gegebenheiten wurden jedoch nicht 1:1 umgesetzt, sondern an Assils humorvolle Welt angepasst. Künstlerische Freiheiten bei der Sphinx müssen auch pensionierte Hobbyarchäologen verkraften.

Benutze Holzbein mit Krokodil
Ankh will ein Klassiker werden, so wurden jedenfalls die Rätsel gestrickt. Wer andere Comic-Adventures gespielt hat wird sich sofort zurechtfinden: da muss ein verbranntes Brot als Brücke herhalten und den eigenen Attentätern ein Sandwich zusammengestellt werden, um wieder an sein gestohlenes Geld zu kommen. Die Rätsel sind immer klar vom Spiel vorgegeben und wenn man gar nicht mehr weiter weiß kann man auf TAB drücken und eine Anzeige mit den aktuellen Aufgaben erscheint. Zwar gibt es keine Hinweise auf das Lösen der Rätsel, das ist aber auch nicht nötig, denn die meisten Rätsel sind eher einfacher Natur. Es kann jedoch manchmal passieren, dass man einen wichtigen Gegenstand einfach übersehen hat und durch das halbe virtuelle Ägypten reisen muss, um ihn zu bekommen. Dies wiegt durch eine fehlende Übersichtskarte schwerer als bei anderen Spielen, da man bis auf eine Ausnahme nirgends abkürzen kann und sich komplett durchklicken muss.
Erfahrene Spieler werden die Rätsel schnell durchschauen und auch entsprechend schnell vorankommen. Sackgassen gibt es keine und auch virtuelle Tode durch falsche Aktionen sind nicht zu befürchten. Ein paar Kopfnüsse gibt es natürlich auch: ihr könnt nicht einfach durch das Spiel rennen und es lösen, ohne nachzudenken und die Orte und Charaktere kennenzulernen.

Schon wieder Polygone!
In Sachen Grafik kann man das Spiel am besten mit "The Westerner" vergleichen. Die komplette Spielwelt ist komplett in 3D gehalten, lässt sich aber mit der Maus steuern. Damit sind schöne Kameraschwenks möglich und das Spiel wird damit nicht mehr in einzelne Bildschirme unterteilt, sondern in Areale wie z.B. den Basar in Kairo. Während man Assil durch die Landschaft laufen lässt, folgt die Kamera mal unauffällig, mal auffällig durch größere Kameraschwenks. Auch wenn nicht allzu viel im Hintergrund passiert: sich bewegendes Wasser und Palmenblätter tragen viel zum positiven Eindruck bei. Viel Arbeit hatte Deck 13 wohl mit dem Animieren der Ägypter: gute Laufbewegungen, Gestiken und Gesichtsausdrücke sind das Markenzeichen des deutschen Teams. Damit wirken die Figuren gleich viel lebendiger.
Und jetzt zur Kehrseite der Medaille. Die Grafik ist sehr kantig gehalten, behält den Comic-Stil aber durchgehend bei. Spieler ohne aktuelle Grafikkarten müssen auf einige Effekte komplett verzichten (siehe Infokasten), hier wären alternative Effekte für günstigere Grafikkarten angebracht. Die visuelle Qualität leidet darunter auf älteren Systemen merklich. Auch die Texturen könnten etwas mehr Schärfe vertragen, sie wirken oft schwammig. Verglichen mit aktuellen 3D-Spielen aus anderen Genres kann Ankh keine Akzente setzen (was angesichts der anders dimensionierten Budgets auch sehr überrascht hätte), muss sich aber keinesfalls grafisch auf das Abstellgleis stellen wie seinerzeit "Simon the Socerer 3D".


Info

Zwei-Klassen-Grafik

Leider behält Ankh viele der Grafikeffekte denjenigen vor, die im Besitz einer jüngeren, DirectX-9-fähigen Grafikkarte sind. So sieht auf älteren Grafikkarten zum Beispiel das Wasser deutlich hässlicher aus als auf neueren Modellen. Auch der Bloom-Effekt, der helle Flächen zusätzlich erstrahlen lässt und somit Treppeneffekte an Kanten kaschiert bleibt Karten der neuen Generation vorbehalten.

Dasselbe mit einer älteren und einer neueren Grafikkarte.

Die volle Grafikpracht von Ankh sollten also nur diejenigen erwarten, die ihre Grafikkarte vor nicht allzu langer Zeit aufgerüstet haben.

Hörbares
Die Musik im Spiel ist jüngst mit dem deutschen Entwicklerpreis für die beste Musik in einem deutschen Spiel 2005 ausgezeichnet worden und sie vermag es tatsächlich, das alte Ägypten ins heimische Wohnzimmer zu holen. Besonders hervorzuheben ist der Titelsong "That's Cairo", der sich nicht vor den Liedern aus großen Disney-Produktionen verstecken muss und gleich im Intro für gute Laune sorgt. An Soundeffekten bietet Ankh gelungene Comic-Geräusche, wie wir sie aus anderen Adventures oder Film-Comics kennen und lieben (oder hassen).
Auch die Sprachausgabe ist sehr gut gelungen, wofür nicht zuletzt hochkarätige Sprecher wie Ernst Meincke (Jean-Luc Picard), Oliver Rohrbeck (???-Detektiv Justus Jonas) und Thomas Danneberg (John Cleese) sorgen. Einziger Wermutstropfen ist die Tatsache, dass einige Sprecher für mehrere Rollen eingesetzt wurden. Insbesondere die Stimme von John Cleese tönt einem aus allen Ecken von Ankh entgegen.

Steuerung
Wie bereits erwähnt setzt "Ankh" auf eine Point-&-Click-Steuerung. Das komplette Spiel lässt sich mit dem Bewegen der Maus und deren zwei Tasten meistern. Die linke Taste lässt Assil etwas zu dem Objekt sagen, die rechte Maustaste führt eine Aktion aus. Die Steuerung funktioniert auch ganz passabel, jedoch gibt es manchmal Probleme mit der Fortbewegung durch die Kameraschwenks. Nicht nur der Spieler ist dadurch manchmal verwirrt, auch Assil läuft einige Male etwas desorientiert im Zickzack oder in die falsche Richtung. Diese Momente sind jedoch nicht zu häufig gesät und man kann sich größtenteils ohne Probleme zurechtklicken.

So lebte es sich vor mehreren tausend Jahren in Ägypten
Während Assil versucht, seinen Todesfluch loszuwerden, muss der Spieler viele Gespräche führen, Gegenstände aufnehmen und verrückte Kombinationen durchgehen. Aufgenommene Gegenstände landen im immer sichtbaren Inventar und können sofort mit allem Möglichen kombiniert werden. Zu groß wird das Inventar indes nicht: mehr als acht Gegenstände werdet ihr darin nur selten finden, da alte Gegenstände rausfliegen, sobald sie nicht mehr gebraucht werden. Viele Gespräche sind zwar nicht nötig für den Spielfortschritt, sorgen aber nicht zuletzt dank der gelungenen Vertonung für Spaß und Kurzweil bei allen, denen der Humor von Deck 13 zusagt.
Zusammenfassend kann man nur sagen, dass Ankh versucht, die Tugend der klassischen, besonders der LucasArts'schen, Adventures weiterzuverfolgen. Dies gelingt dem Spiel auch größtenteils durch viel Humor und sympathische Charaktere. Ein bisschen fehlt allerdings noch: so ist der Humor nicht ganz so bissig wie in meiner, vielleicht zurechtgebogenen, Erinnerung an die LucasArts-Klassiker und die Spielzeit ist für erfahrene Spieler mit maximal 6-8 Stunden auch viel zu kurz. Ankh ist jedoch ein gutes Adventure für die ganze Familie, das das Adventuregenre zwar nirgends neu erfindet, dieses Nichterfinden aber auf eine sehr unterhaltsame Art und Weise macht.
---
Kommentar
"Assils Abenteuer war für mich ein sehr kurzweiliges. Ich konnte das Spiel ohne größere Probleme lösen, einzig das Übersehen von wichtigen Gegenständen war bei mir symptomatisch. Wer ein Adventure für die ganze Familie mit viel Humor und guter Grafik sucht, dem sei Ankh wärmstens ans Herz gelegt."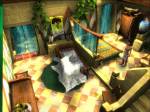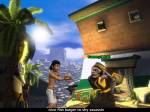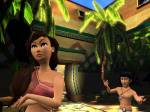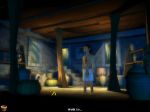 Mehr Bilder (34)
---
Pro und Kontra
| | | |
| --- | --- | --- |
| | + | gute Grafik |
| | + | tolle Sprachausgabe |
| | + | symphatische Charaktere |
| | - | viel zu kurz |
| | - | zu leichte Rätsel |
| | - | teilweise hakelige Steuerung |
---
Anforderungen
Mindestens
1,5 Ghz Prozessor
3D Grafikkarte mit 64MB RAM
256 MB RAM
Windows 2000/XP
DirectX 9.0c
Empfohlen
2 Ghz Prozessor
3D Grafikkarte mit 128MB RAM
512 MB RAM
Windows 2000/XP
DirectX 9.0c
---
Links