The Abbey
Hersteller: Alcachofa Soft
Vertrieb: Crimson Cow
Games Convention 2007. Als unsere Redaktion den Stand von Crimson Cow betrat, hatten wir The Abbey, das neue Spiel der Clever-&-Smart-Entwickler, nicht wirklich auf unserem Favoriten-Radar. Das änderte sich jedoch schnell, als Chefentwickler Emilio de Paz uns verzauberte, nicht nur, weil er, na ja, zauberte, sondern auch, weil sein neues Projekt viel besser aussah, als das vor der Messe abzusehen war. Was letztendlich daraus geworden ist, haben wir uns jetzt anhand der Verkaufsversion angeschaut.

Pars I: In medias res
Das Intro, das im vergangenen Jahr in Leipzig präsentiert wurde, führt eindrucksvoll in die Geschichte ein. Leonardo de Toledo, dessen Ruf als Sherlock Holmes unter den Mönchen ihm überall dahin vorauseilt, wo er sich hinbegibt, und dessen kindlicher Novize Bruno, der ihm auf Schritt und Tritt folgt, sind auf dem Weg in eine abgelegene Abtei im Herzen Spaniens. Dort soll Bruno, der Sohn eines einflussreichen Grafen, sich dem Orden anschließen. Auf dem Ritt werden die beiden jedoch angegriffen, augenscheinlich von einem Mönch, der versucht, das Duo mit einem gewaltigen Felsbrocken zu erschlagen. Was steckt hinter dem Angriff?
In der Abtei angekommen, in der das gesamte Spiel stattfindet, erfahren die beiden von einem Unglücksfall: Einer der Mönche ist in der vergangenen Nacht von einem massiven Weihrauchfass erschlagen worden. Doch was manche als tragischen Unfall werten, entpuppt sich schnell als Mord. Schlimmer noch: Als Mörder kommt nur einer der Mönche der Abtei infrage!
Los geht sie also, die Mörderhatz. Dass bei der Ermittlungsarbeit "Der Name der Rose" nicht nur thematisch verwandt ist, sondern auch direkte Inspiration war, wird während des Abenteuers immer wieder deutlich. Zum Glück wahrt Alcachofa Soft aber auch so viel Distanz zu Umberto Ecos Wälzer, dass The Abbey mit seinen vielen eigenen Ideen keine Kopie, sondern eher eine Hommage geworden ist.


Info

Vorsicht, Bugs!

Bei uns lief die Releaseversion von The Abbey fast ohne Probleme, sehr viele Käufer können das aber nicht von sich behaupten. Von Installationsproblemen unter Vista bis zu Bluescreen-Abstürzen im Spiel hat The Abbey den Spielern viel zugemutet. Unser Test bezieht sich auf die Version, die Crimson Cow zunächst ausgeliefert hatte, und geht davon aus, dass sie ohne Abstürze läuft.
Inzwischen gibt es einen Patch auf Version 1.1, der die wesentlichen Fehler aus dieser Version beseitigt. Auch bei den von uns kritisierten Außenarealen wurde hier optisch nachgebessert. Alte Spielstände sollten mit der neuen Version allerdings nicht mehr verwendet werden.
In Kürze wird auch im Handel nur noch die "2nd Edition" zu haben sein, die den Patch bereits integriert hat. Außerdem wird diese Ausgabe auch unter Windows Vista problemlos zu installieren sein.

Pars II: Fiat iustitia, et pereat mundus
Der Krimi, der The Abbey im Kern ist, ist wirklich spannend geworden. Die Suche nach dem Bösewicht und dessen Motiv gestaltet sich auch deswegen hoch dramatisch, weil - so viel darf verraten werden - die Weihrauchleiche vom Anfang nicht der letzte Mönch ist, der vor dem Abspann das Zeitliche segnet. Die gelungene Aufklärung am Ende bestätigt dann auch den Verdacht, eine sorgsam konstruierte Geschichte gespielt zu haben.
Richtig genießen kann den Whodunit aber nur, wer auch am religiös-historischen Anstrich keinen Anstoß nimmt. Das Setting erstickt zwar nicht jeden Humor im Keim, insgesamt weilen die vielen, teils auch recht ausführlichen Dialoge aber eher auf der ernsthafteren Seite des Lebens. Das hochtrabende Gerede der Ordensmänner kann dann und wann schon mal deutlich aufs Tempo drücken.
Auflockernder Lichtblick ist da zum Glück der Spielercharakter Leonardo, der frischen Wind durch die alten Gemäuer bläst und neben manch einem schelmischen Spruch auch auf Geheiß des Spielers immer wieder gänzlich unmönchhafte Dinge tut. Die Identifikation fällt allerdings immer dann recht schwer, wenn er seinem circa zehnjährigen Novizen Bruno ausnehmend schroff ins Wort fällt ("Schweig still!"). Vielleicht hätte etwas mehr Lockerheit dem Spiel etwas Schwung geben können.

Pars III: Romanes eunt domus
Spielerisch orientiert sich The Abbey klar an klassischen Werten. Getreu dem Motto "never change a running system" setzen die Entwickler auf etablierte Adventure-Mechanik. Fast alle Rätsel basieren auf dem Inventar, einmal mischt sich auch ein Schiebepuzzle ins Geschehen. Die Lösungen sind in der Regel logisch, wenn auch nicht offensichtlich. Nur selten schießen die Designer ein wenig über das Ziel hinaus, zum Beispiel, wenn man ohne Hotspot-Anzeige ein winziges Türschloss entdecken muss. Die meisten interaktiven Objekte sind aber gut zu erkennen.
Leider ist das Inventar nicht beosonders benutzerfreundlich. In einer großen Matrix an "Slots" hat jedes Objekt im Spiel seinen festgelegten Platz. Anders als normalerweise, wo das zuletzt eingesammelte Objekt ganz hinten liegt, muss man also ständig suchen, wo der gerade gesammelte Gegenstand nun genau abgelegt wurde. Im Einzelfall ist das zwar nicht problematisch, gerade gegen Ende, wenn immer mehr Dinge in Leonardos Taschen wandern, wird das System aber unhandlich.
Noch ärgerlicher ist aber, dass zwar jede Menge Dialoge geschrieben wurden, aber kaum Kommentare für den Einsatz und die Kombination von Inventargegenständen. Bei einer Aktion, die fast richtig ist, wäre ein Tipp oder irgendein aussagekräftiger Spruch sicher nützlicher als dieselbe Standardantwort wie bei völlig unsinnigen Handlungen. Hier hätte man den Spieler auf jeden Fall stärker führen müssen.
Ansonsten steuert sich The Abbey sehr angenehm. Dank Doppelklick-Funktion und Übersichtskarte sind Laufwege kein Problem, die Interaktion mit der Umgebung geht intuitiv von der Hand.

Pars IV: Veni vidi vici
Grafisch kann The Abbey in weiten Teilen überzeugen. Beim Betrachten der Screenshots fällt zwar sofort auf, dass die gezeichneten Hintergründe weitaus weniger Details zeigen als andere Comic-Spiele wie Runaway oder A Vampyre Story. Das wird aber durch die zahlreichen Schnitte aufgefangen, die The Abbey auszeichnen. Anstatt ewig in einer Szene herumzulaufen, zeigt das Spiel die Umgebungen aus etlichen Kameraperspektiven und schneidet in Dialogen von Großaufnahme zu Großaufnahme - höchst ungewöhnlich für Spiele mit gezeichneten Hintergründen. So sieht man jedes einzelne Bild nicht so lange und die geringe Zahl an Details fällt weniger auf. Manchmal macht die Engine auch Gebrauch von der Fähigkeit, Szenen zu zoomen und zu rotieren. Hiermit hätten die Entwickler ruhig häufiger spielen können. Außerdem wären ein paar zusätzliche Animationen gut gewesen.
Speziell die vielen Innenräume wirken dank stimmigem Zeichenstil sehr kohärent. Leider fallen viele Außenszenen qualitativ deutlich ab. Die Gebäude wirken wie auf 3D-Modelle gemalt, der Himmel wird lieblos hinter die Szenen gepappt und zu anderen Tageszeiten einfach ausgewechselt.
Durchgehend überzeugen können die Charaktere. Die werden zwar in Echtzeit-3D berechnet, passen sich aber dank des fantastischen Celshaders, der wohl zu den besten gehört, die man im Adventurebereich zu sehen bekommt, hervorragend in die Hintergründe ein. Die Figuren sind auch detailliert genug, um bei bildschirmfüllenden Gesichtern noch überzeugen zu können. Bei solchen Großaufnahmen kommt dann auch die gescriptete Mimik zur vollen Geltung.

Pars V: Vox populi vox dei
Für die Ohren ist The Abbey ein Fest. Der Soundtrack, der live mit dem City of Prague Philharmonic Orchestra aufgenommen wurde, ist je nach Situation kraftvoll, leise oder fröhlich und verstärkt zu jeder Zeit die Stimmung des Spiels. Das Spektrum reicht von opulenter Kirchenmusik mit Orgel und Chor bis zu auflockernder Blasmusik der ruhigen Sorte. Jede Location hat dabei ihr eigenes Musikstück, Zwischensequenzen sind eigens vertont. Da bleiben eigentlich keine Wünsche offen.
Genauso professionell geworden ist die Sprachausgabe, die uns schon vor Ort im Tonstudio überzeugen konnte. Die ausschließlich männlichen Sprecher sind alle Vollprofis, die ihre Rollen hervorragend ausfüllen. Insbesondere Leonardo-Sprecher Bernd Rumpf überzeugt vom bissigen Sarkasmus bis zu den strengen Tönen in jeder Lage. Nicht zuletzt tragen dazu auch die sehr gut geschriebenen deutschen Texte bei.

Conclusio: Dikurante bissifil
Seit Clever & Smart hat Alcachofa Soft einen deutlichen Schritt nach vorne gemacht. Bis ganz nach vorne hat er die Firma von Emilio de Paz aber nicht geführt, dazu ist die Rätselei zu unrund und die Dialoge zu träge. Auch schafft es das Spiel nicht, das theoretisch sehr cineastische Spielerlebnis durch Schnitte, Zooms und Zwischensequenzen über die gesamte Spielzeit aufrecht zu erhalten. Insgesamt ist aber eine reizvolle Geschichte, die visuell über weite Strecken und akustisch vollständig gelungen ist, herausgekommen. Wenn nur die herben technischen Probleme seit Auslieferung (siehe Infokasten) nicht gewesen wären, hätten sich vermutlich wesentlich mehr Spieler selbst davon überzeugen können.
---
Kommentar
"Nett, wirklich nett. Als spannendes Whodunit hat mich The Abbey bis zur Auflösung überzeugt, als Adventure weniger. Die Rätsel hätten origineller sein können und die nervige Das-geht-so-nichterei hätte man vermeiden sollen. Dank der schicken Comic-Grafik (das Celshading, mmmh!) und der tollen Akustik hat mich das Spiel dann aber doch zufrieden gemacht. Mehr wäre sicher drin gewesen."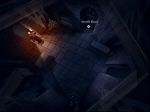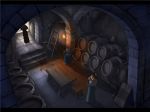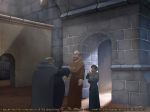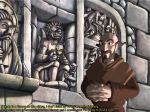 Mehr Bilder (36)
---
Pro und Kontra
| | | |
| --- | --- | --- |
| | + | Klasse Soundtrack |
| | + | Comicgrafik in Innenräumen |
| | + | Überzeugendes Celshading |
| | + | Spannende Geschichte |
| | + | Tolle Sprachausgabe |
| | - | Technische Probleme |
| | - | Außenareale unansehnlich |
| | - | Wenig Hintergrundanimationen |
| | - | Rätsel relativ schwach |
---
Anforderungen
Mindestens
1,4 GHz CPU
512 MB RAM
64 MB Grafikkarte
3 GB Speicher
Empfohlen
2 GHz CPU
1 GB RAM
128 MB Grafikkarte
5 GB Speicher
---
Links