Adrian Carr (Zweiter Teil)
(Director of The Pandora Directive and Overseer)
Interviewer: Ingmar Böke
date: 07.06.2012
language:
more languages:

Adventure-Treff: It was obvious that there was a quantum leap between Under a Killing Moon and the Pandora Directive when it comes to the director's job. However, I think that Overseer was another huge improvement which is no surprise since you were probably a lot more used to this specific medium and what you could do with it. How do you think you have improved as a director for video games between Pandora and Overseer?
Adrian Carr:
Overseer was a game changer in many respects but fans that were critical of the game need to know, it was NOT developed as a full-on Adventure Game. It was created solely as a demonstration for a new Intel computer chip. Intel wanted to use Tex Murphy to show off their groundbreaking advance in visual and audio technology. Given the very short schedule, Aaron and Chris quickly came up with a story that would work but could only use a linear path not the complex pathing of Pandora Directive.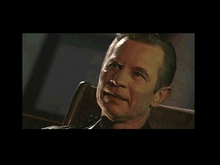 Michael York in Overseer
When I shot Pandora Directive I never quite understood the Ask Abouts and the choices I had editing the Interactive Conversations – With Pandora it was very much make a choice of how you answer a question and see the opposite character's answer. For me that was very pedestrian – in Overseer I started editing within the interactive conversation for each answer to see a reaction while hearing Tex's dialogue and cut back to Tex and cut back to the other character in time to get the correct response to that question. This is what made Overseer more cinematic – I would love to go back into Pandora Directive and reedit all the cinematic clips including the movie reward scenes as well. However, with this knowledge I plan to take the editing to a whole new level in Project Fedora that will improve the cinematic and emotional experience for the player.
Also not many people are aware… Sonny's apartment was an actual set since all his scenes take place without any interactive conversation so we shot those like a traditional movie but I did keep the discipline of not moving the camera to a minimum so those scenes didn't look out of place. Sonny's scenes were more kinetic, as is the elevator ride up to the clock tower; that was shot on location. I would love to incorporate similar moments in Project Fedora and I intend to use more camera and actor movement in the 3D world.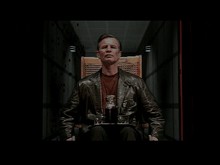 Michael York in Overseer
A-T: Please share further memories and anecdotes from the creation of Overseer.
Adrian:
Working with Matt Heider on Pandora Directive and Overseer were two one of the most joyous experiences as a director. Matt really defined Tex's theme for overseer and the score was written for a bigger orchestra while keeping the isolationist feel of a noir PI. He composed with strength, with conviction and went for broke whether it was the clock tower fight, the chess game or the defeat of Gideon, they all had the confident hand of Matt guiding the emotional core of the game.
Another was the death of Gideon – a movie reward that plays out the demise of Gideon is very moving, the performances speak volumes and Matt's score underpins the emotional subtext with a haunting beauty.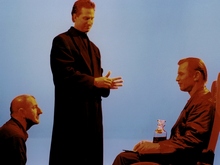 Adrian Carr, Chris Jones and Michael York on the set of Overseer
We shot an impressive 119 set-ups on one particular12 hour day. We had Joe Estevez, Rebecca Broussard and Richard Norton on set; it was a crazy day with so many variations for the clock tower sequence and alternative choices.
I normally stay behind the scenes but we still had the bad guy, Dalton, to cast and had no more Access Software staff to draw upon then I read Dalton's scenes and I noticed he was Australian and I shuddered knowing full well what this meant - I was to play Dalton. After we shot the scenes I thought it was all over so I relaxed. I've relaxed for 14 years – that same shiver went through me again recently when Aaron just smiled at me while we shot the kickstarter trailer and hinted that Dalton is returning.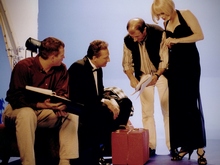 Aaron Conners, Chris Jones, Adrian Carr and Rebecca Broussard ont the set of Overseer
A-T: Aaron and Chris both pointed out in our interviews how much they enjoyed working with Michael York. How did you experience working with him and how was the work with the other actors in Overseer?
Adrian:
I worked with Michael many moons ago as a film editor back in Australia and I periodically see him at events in Los Angeles. When I first read the character of Gideon and his name came up I was able to go to Michael directly and pitch the role to him.
Once Michael signed on Aaron wrote this amazing monologue for a ten minute, movie reward scene. Now remember we were shooting at the end of an International Airport runaway and to shoot this monologue in one take would require a miracle – we got that miracle. The night be fore we were to shoot the big speech it snowed and the next morning t flights were diverted to another runway which meant we had much longer breaks between flights. [see photo]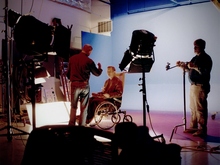 Adrian Carr, Michael York and John Clark on the set of Overseer
I asked Michael his thoughts on filming on a blue screen set. He said "I look at it like rehearsing for a stage play where there is no set and you use your imagination to build the world that your character is in"
I also got to work with a dear friend, Richard Norton, another Aussie, who played Big Jim Slade – we would prank on set and Chris and Aaron fell in love with the guy; he has charisma in spades. However, Chris was a little anxious in his fight scenes with Richard who could snap his neck in less than a heartbeat. But I assured him that Richard is one of the most safety conscious fight choreographers I know.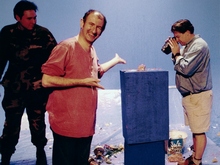 Mark Hulka, Adrian Carr and Dave Brown on the set of Overseer
I immediately connected with Joe Estevez who insisted on reading for the part of John Klaus but he didn't have to, he already had the role. And he was so good that I cast him in an indie film a few years later called Mind Games also starring Richard Norton.
Rebecca Broussard was perfectly cast as Sylvia, she was able to vamp in the noir femme tradition. She is such a warm and engaging person and a perfect collaborator. I also had Manolito from The High Chaparral in the cast - Henry Darrow – what a great person to spend time with as well as being a wonderful actor. Roger Davis was a real trooper having bullet squibs put on him for when he gets shot in the cabin siege… oops another spoiler!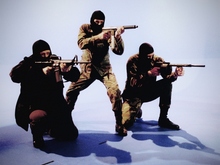 The "killer squad" on the set of Overseer
A-T: My personal favourite Tex Murphy game has always been Overseer. The reason for that is that I loved the more serious tone and the drama elements (Spoiler: suicide of Gideon, death of Sonny etc) I was a little disappointed when Aaron told me that he didn't like these elements too much as he had the impression you were turning Tex into a soap opera. What is your opinion on the drama elements in Overseer?
Adrian:
Many reviews and comments applaud the more dramatic tone taken in Overseer – I am pleased to see you thought so too, Ingmar. As Aaron said I too recall there was much discussion, well debate about the direction the story of Overseer would take. Because the game was essentially a demonstration for Intel to show off their new DVD and 5.1 surround sound chip there was more FMV in this game than Pandora Directive. This is something the Tex fans and gamers in general did not understand; it was not designed as a full on game. There was limited game play and puzzles because of the time to create the demo. I personally feel what Aaron and Chris achieved in the tight schedule was amazing and a hint of what was to come in the next Tex Murphy adventure. We planned on developing a new game with multiple paths but we all know what happened when Access was bought out.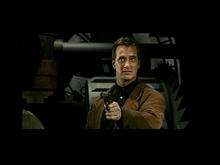 Richard Norton in Overseer
I think that some of the humour and dialogue by supporting characters seemed a little forced and came across a little melodramatic given the overall dramatic thrust of the story, this contrast could be what Aaron means by turning it a bit 'soap opera-y'. However, with only a singular path we could not explore the other aspects we love about Tex that we get to see on the multiple paths and I personally would like to have seen more his cynical humour throughout.
As Tex travels further into more dangerous territory he cannot, I feel, go backwards, that doesn't mean we can't maintain his sense of humour it just means the stakes are higher… and we will definitely not become 'soap opera-y' in Project Fedora.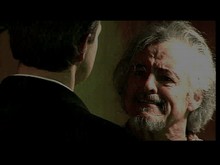 Chris Jones and Henry Darrow in Overseer
A-T: Chris Jones has gone through quite an evolution as an actor from Under a Killing Moon to Overseer. Please talk about that "journey" and share some insights of that evolution.
Adrian:
Chris Jones is a natural actor and one has to be careful not to let him 'act'. He uses common sense logic and makes Tex believable even when situations are at times, unbelievable. Thankfully, Chris has a knack for comic timing, something you can't really teach and it is essential for Tex Murphy.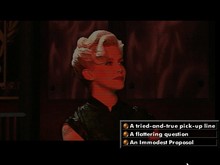 Monique Lanier in Overseer
His development as an actor can be measured by the confidence he displayed between UAKM and The Pandora Directive and how he stretched himself to a higher level in Overseer – after all he went head to head with Michael York not an easy feat. Chris had to expose his more vulnerable side for his romantic scenes with Suzanne Barnes (Chelsee Bando). He had to express 'truth' in his performance otherwise we would never have bought into their relationship.
Another sign of how he has grown as an actor was the ease in which he slipped on the trenchcoat and fedora and immediately became Tex Murphy after fourteen years.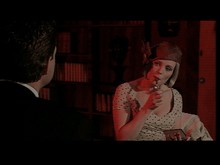 Chris Jones and Rebecca Broussard in Overseer
A-T: The last weeks have been extremely exciting for fans of Tex Murphy. So far, the Kickstarter Campaign is very successful and it seems very likely that you, Aaron and Chris will get the money for a new Tex Murphy game. How much do you know about that new game until this point and what are your ambitions for it?
Adrian: I know the direction in which Aaron and Chris are taking Tex but I honestly cannot comment other than to say the fans of Tex Murphy and newcomers alike "you will not be disappointed."
A-T: The budget for the new game will be rather low in comparison to the previous games. However, the gang has repeatedly pointed out that you know how to do a new game the most efficient way. Please give us an idea of how that method of efficiency looks like in detail.
Adrian: Ingmar, with the advancement in technology over the past 14 years and my growth as a director I can shoot more efficiently and better integrate the actors into the world of Tex Murphy. I cannot disclose our method of working because we will be using certain proprietary software that will revolutionize FMV in the Tex Murphy games. Once the game is complete we can talk again about how we did it.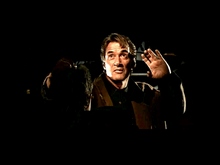 Richard Norton in Overseer
A-T: What actors would you love to work with one day - for what reasons - if you had the money to pay them?
Adrian: If you mean as director in general not just Tex then George Clooney - Brad Pitt - Tom Cruise - Angelina Jolie - Noah Wyle – Robert Vaughn – Charlize Theron – Dame Helen Mirren – Dame Judy Dench – Harrison Ford – Robert Downey Jr…. and the list goes on and the reason why – they are all exceptionally talented performers.
A-T: What directors are your favourite directors for what reasons and who of them do you consider as an influence on your own work?
Adrian: Several directors have influenced my work in one way or another. Steven Spielberg (entertainment master filmmaker) – John Ford (his westerns are legendary – powerful and elegant) – John Sturges (The Great Escape & The Magnificent 7 need I say more…) – Richard Donner (master filmmaker whose The Omen had one of the best cinematic tricks in it – Lee Remick's fall) - John Frankenheimer (epic stories epic filmmaker, The Train & Grand Prix– Dario Argento (the Italaian Hitchcock of horror suspense – Deep red& Suspiria) – Sir Alfred Hitchcock (master of suspense say no more!) – Clint Eastwood (economist filmmaker who turns in great film after great film) – David Fincher (his visual storytelling is incredible and wonderfully dark)– Milos Forman (powerful drama films) – David Lean (epics).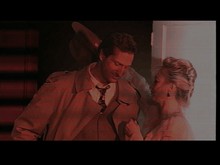 Chris Jones and Suzanne Barnes in Overseer
A-T: Please share your favourite movies of all time.
Adrian: Wow… Classic movies of the 40s – Joh Ford movies – epics Magnificent 7 The Great Escape - Grand Prix -The Train - Bridge on the River Kwai Lawrence of Arabia – Deep Red – Hitchcock classics - The Omen - Lethal Weapon series - ET - Raiders of the Lost Ark – Up – so many more! I love movies!
A-T: Is there anything you can tell us about your projects in the near future - aside of the new Tex Murphy game?
Adrian: My wife and I have several feature film projects we are developing A Belly Full (indie comedy) – Without a Hitch (adventure romance suspense) – Demonic Will (horror) and Gabriel's Justice (thriller), the feature version of Blood Makes Noise – OH and there is the possibility of a Tex Murphy movie in the not too distant future.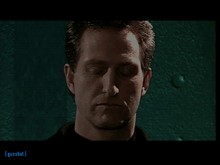 Chris Jones in Overseer
A-T: Thanks a lot for doing this interview, Adrian. I really appreciate it! We wish you all the best with the last weeks of the Kickstarter campaign and we are all looking forward to a new game. Any last words to the long-time Tex Murphy fans out there?
Adrian: To all the gamers out there who like point and shoot games – do yourselves a favour and pledge just $1 to the Tex Murphy Project Fedora kickstarter campaign and you will not only help revive the most cutting edge Adventure Game series but you will get to experience a whole new way of playing a computer game that doesn't rely on your trigger finger but will challenge your mind and how clever and resourceful you can be.

To our long time Tex Murphy fans: We are listening to you and our hope is to bring back Tex in a new multi-path game with state of the art FMV. But it can only happen if we keep on campaigning so please keep spreading the word as you are. You are doing a phenomenal job!